SIXTH FORMER WINS TOP PRIZE AT NATIONAL DEBATE FINAL
A Sixth Former from Prince Henry's is celebrating this week, after she won the top individual prize at the annual Benjamin Franklin Debate Competition – Frankly Speaking – at Bloomberg Headquarters in London. Although Isla Lury and team mate Iqra Shahid, Year 13, were pipped at the post in the final debate, "This house believes national governments should be solely responsible for space exploration", Isla was judged to have given the best individual performance.
As top scorer, Isla wins an all-expenses-paid place at the Benjamin Franklin Transatlantic Fellows Summer Institute at Wake Forest University, North Carolina. This is a unique programme initiated and funded by the U.S. Department of State, and hosted by Wake Forest University. During her stay in the U.S., Isla will explore American culture and politics and develop her leadership skills. The experience will be invaluable, as Isla has an offer to study Archaeology at Cambridge University after her A levels.
"The Sixth Form Debating Society is one of the many enrichment activities which we offer our Sixth Form Students, as they prepare for life beyond school. Both students performed extremely well in the debates and Isla has now gained an amazing opportunity as a result! We are very proud of them and their achievements. Isla came to our Sixth Form from another school and this award is testament to her hard work and the way in which she has seized every opportunity we can offer her." said Claire Willis, Head of Sixth Form.
This is the second time that a Sixth Former from Prince Henry's has won the individual debating prize at the competition, while the teams have achieved a place in the final every year the school has attended. Student Stephen Dawes won the individual debating prize in 2016.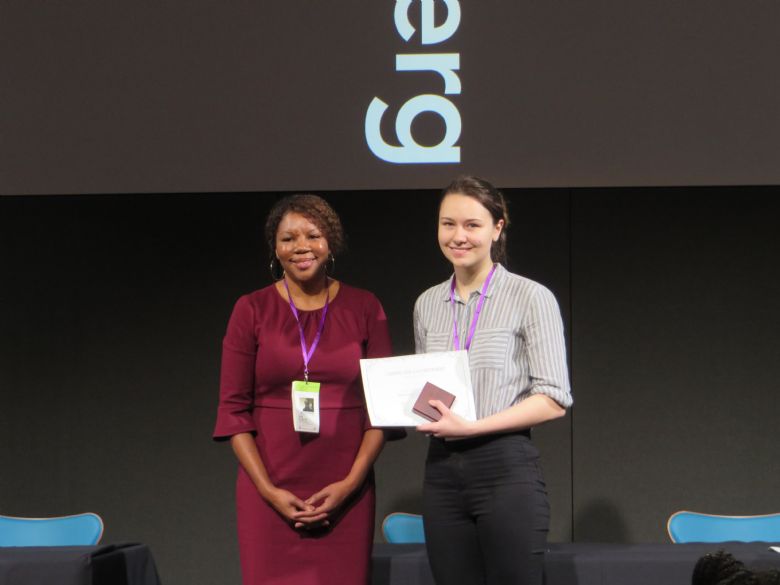 Picture: Isla Lury receiving her prize from Kim Dubois, Cultural Affairs Officer at the American Embassy.